Top 5 Uses for Document Cameras in the Classroom
Top 5 Uses for Document Cameras in the Classroom
Document cameras have been in the market for quite some time. But, online classes during COVID-19 popularized the use of these cameras. But, even without the pandemic looming around at present times, document cameras have taken a permanent place in our lives. These cameras now grab the attention of tech enthusiasts in the mainstream market.
These tools are simple yet powerful and do a revolutionary job of sharing valuable study materials. No wonder these banger items have become sought-after tools by teachers. Wondering how document cameras can improve your teaching experience and help your students become better learners? Below are the 5 valuable uses for document cameras in the classroom, which you can use to get the best out of them.
Top 5 Uses for Document Cameras in the Classroom
Ramp up Your Storytelling Performance
Reading from books or online has no visual appeal for students, especially if they are kids. Plus, students may find complex topics difficult to understand. But, you can include small objects or figurines for a live reenactment of incidents or stories and show it through document cameras.
Take the cases of history classes, which most students find boring and full of details that need memorizing. You can make your history lessons engrossing by using models and figures and narrating the events. And let the whole class see the live storytelling captured by document cameras. Not to mention, students can find your storytelling interesting and may spend some time reading otherwise dull history lessons.
Proper Demonstration of Science Experiments
The usual practice of demonstrating science experiments involves students coming individually in front of the teacher's desk to get better viewing clarity. The teacher may also need to get up from their seat and show the result (like a dissected flower) in front of every student's seat. However, document cameras hold the ultimate power to remove viewing difficulty and the need for people moving haphazardly in a class to catch a clear glimpse.
Importantly, a live science experiment can benefit heavily from document cameras. The auto-focus and flexible neck movement of document cameras allow you to show the experiment object clearly from any angle. You can use this device to show rocks, flowers, and other natural objects.
Plus, these cameras are apt for showing live experiments that otherwise couldn't be viewed and understood by backbenchers. You can demonstrate chemical changes underneath the camera, let the whole class see it on the projected screen, and catch every tiny detail.
Discussing Quizzes, Home Work, and Exam Papers
Classroom teaching becomes more wholesome as you discuss every student's quizzes, homework, and exam performances in great detail. But it's practically impossible to take photocopies of everyone's answer sheet. Also, it would be cumbersome to ask your learners to share the answers among themselves.
So, why don't you get a doc camera, transfer the images of copies to your device, and show the results on a bigger screen? Let's take the case of showing the results of a test in which most students have failed. Using document cameras lets everyone in the class see the errors, and you can easily discuss what should have been done.
Solving Complex Questions on Subjects like Maths
You can use document cameras while solving the problems in a sheet underneath the lens. Students get to follow along easily as they get live track of how you are approaching and solving the math problem. Not to mention, when you solve problems on black or white boards, you need to erase the previous problems to make space for new ones.
So, students can miss some problems that are worked out on the board. But when teaching using document cameras, you can save the previous solutions and start with the next one. That helps you to keep every solution stored on your laptop. And students don't have to worry about failing to catch up with the solution.
Read and Highlight Pages of Class Materials
Classroom teaching heavily relies on the use of books and other printed materials. However, students can fail to track which page you are reading from and bombard you with their queries. Why don't you use a document camera and let your students view the page numbers?
Plus, this live-tracking speeds up your classes. You can also write notes or mark some important lines of prose. So your learners don't miss out on details. Also, as they are updated with your live reading, they can come up with fruitful follow-up questions.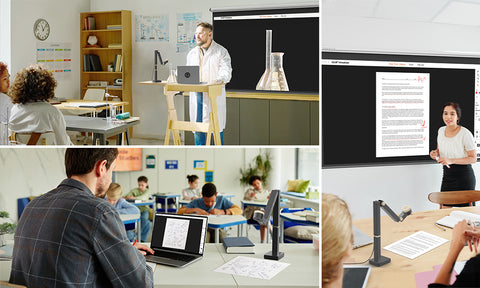 A Usage Scenario for Document Cameras
To better understand the usage of document cameras, we have devised a scenario using a CZUR product.
Unwrap the box of fancy S pro. You can see a sleek device packaged in a black colored box.
Connect the camera to your device, like a laptop, using USB adapters.
Place the experiment you are conducting underneath the lens. You can change the height to create a focus that your students need.
Let's take a case of showing the dissection of reproductive organs in a subject (like a mouse). Catching up the tiny yet important details inside the reproductive can be difficult. But you can make the class and viewing experience productive with this camera.
You can use the overhead buttons to control light exposure and zoom-in features.
Plus, the 12 MP gives you an impressive clarity.
Conclusion
Document cameras have emerged as much-needed tools for teachers to deliver an easy yet effective learning experience. It would be beneficial to keep yourself updated with many uses of document cameras and deliver ease and convenience in the learning experience of your students.
These cameras come in handy for live demonstrations of science experiments and make history lessons interesting. Also, you can use cameras to display the pages you are reading and help your student stay on track. And these are great tools for solving mathematical problems and discussing complex quizzes.
To get the benefits of seamless teaching in your class, you can grab a camera from the CZUR Fancy Pro series. These portable tools with light control and impressive clarity are sure to make your class enjoyable for students, even if it involves teaching sleepy history lessons.
---