Why Do You Need a Webcam?
Computer network streaming is an important element of professional workflow and business environments. Webcams are handy and cheaper utilities for seamless remote and live communication among friends, colleagues, students, and teachers. These devices come in diverse specifications and are highly suitable for video conferences, social media and security applications, live streaming, etc.
What Can You Do with a Webcam?
Remote Conferencing
Modern-day innovations have made professions and businesses cross geographical boundaries. A diverse range of purpose-built webcams is dedicated to making remote conferences possible in professional spaces. These are also suitable for the internal and external corporate meetings that are a part of a company's regular business. Corporate transactions are also a convenient task with these devices.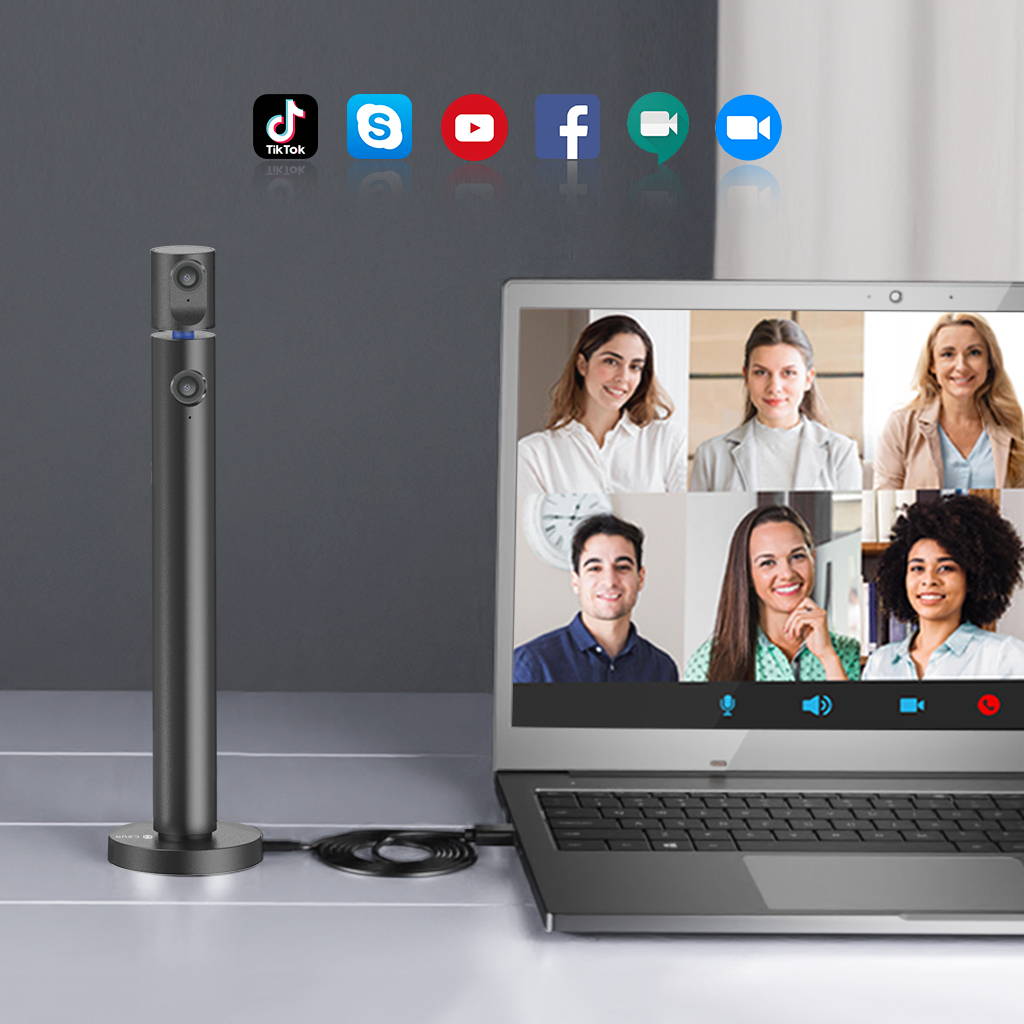 High-quality web cameras also give way to the work from home flexibility. Employers and workers can coordinate with each other in the comfort of their homes. This is greatly beneficial in maintaining interrupted workflow during challenging or unfavorable situations for working in office environments.
Online Education
Academic environments can equally benefit from using webcams for teaching and learning concerns. These devices are welcoming utilities for seamless online education, ahead of demographic limitations. Teachers and students across the globe can come together and communicate for academic gains. Teachers can conduct online video lectures, seminars, etc., and create educational content for their students.
Students can benefit by accessing the content from a convenient space for uninterrupted learning. They can interact with the teachers for solving doubts and clearing queries. Webcams can help teachers and students engage in educational proceedings by transforming homes into virtual classrooms.
Live Streaming
Apart from professional and academic advantages, webcams are greatly preferred for creating live content for fun and entertainment. Platforms like YouTube, Tiktok, etc., are used to create interesting, funny, and informative videos for live streaming on social media. The task is made conveniently possible through the use of high-resolution webcams.
Viewers can stream such content on their smartphones, PCs, and a host of other devices through in-built web cameras. Influencers and content creators can also connect and interact with fans and followers through live chats, video calls, etc. Webcams go a long way in making digital communication possible on content-streaming platforms.
Categories of Webcams and Why Choose a Standalone Webcam?
Built-in Webcam
A built-in webcam is integrated into your computer, smartphone, tablet, etc. The device does not require an external setup for working. There are no configuration requirements either, and you don't need to pay an extra price. Modern-day electronic gadgets come with in-built front-facing cameras that work conveniently well as webcams.
You can use these cameras to record videos and connect with colleagues, friends, and family, anytime and anywhere from your laptop or phone. The one thing that puts down in-built webcams is their low capture quality. Most in-built webcams offer a limited resolution of 720 pixels.
Standalone Webcam
Standalone webcams are external cameras that need to be plugged into your system through a USB cable. These devices are well suited for attaching to desktop computers. You can even use them to replace the built-in webcam of your laptop. Built-in webcams are quite efficient in addressing video connectivity concerns. However, there are enough reasons why you should choose a standalone webcam. Some of them are listed below:
In-built webcams are not supported by desktop PCs. When hosting a video conference from your desktop, you will need to mount a standalone webcam above the system.

Built-in webcams have limited video quality. A standalone webcam is needed for high-quality video streaming, such as 1080 pixels or 4K.

Additional functionalities like digital zoom control, face-tracking, etc., are not available in built-in webcams. You will need a standalone alternative to access them.
Why CZUR Halo Dual Camera Webcam Is Suitable and How Does It Work?
The CZUR Halo Dual Camera webcam is a professional standalone camera with some excellent video-capturing advantages. Let us have a look at why you can count on the gadget for a high-quality visual experience:
Reasons for Suitability:
The device comes with 2 HD cameras that can be operated separately. The cameras are differently facing for capturing the clearest videos and images. You can rest assured of the video quality with its 1080-pixel resolution that captures videos at 30 fps. The webcam is a smart choice for video calling, conferencing, live streaming, recording, gaming, etc.
You are entitled to several multi-perspective advantages with this standalone webcam. The device offers a 90% field of view with 270 degrees of horizontal rotation flexibility for the top camera. The base camera allows 180-degree horizontal rotation along with a variety of angle adjustments. The camera is conveniently portable for the best usage.
This webcam has wide compatibility with many video platforms including Zoom, TikTok, YouTube, Messenger, Skype, etc. You can create live streaming content, host meetings, and conferences; interact with friends and colleagues with utmost convenience. The high-resolution video output adds to the viewers' advantage.
This webcam is compatible with USB compatibility and does not require driver installation. You can work with the device through a quick USB plug-in into your system. All your concerns about professional and academic workflow can be conveniently addressed. The device has extensive software compatibility, and also comes with its specific program.
How to Set
The CZUR Halo Dual Camera webcam is available with an exclusive software program for quick installation and usage. You can take the following steps to work with the same:
Navigate to the device's official website and download the software.

On the welcome screen, click on the 'Download Software' button at the top-right corner.

Choose 'Halo Camera' from the list of options that appears next.

Select 'Mac' or 'Windows' as your computer's operating system to initiate the download process.

Install the program on your laptop or desktop and connect the webcam through a USB cable.

You can set the camera at 270 and 30-degree angles through physical rotations.

To use the camera in video communication applications, you can switch to the device's model name in the 'Camera Selection' menu of the app.

You can change the settings of output format, resolution, exposure and white balance adjustments, watermarks, etc. for camera operation.
Conclusion
Webcams are a feasible option for addressing video creation needs in a host of scenarios. While making a choice, it would be smart to prefer standalone cameras over the built-in options. Likewise, the CZUR Halo Dual Camera webcam enjoys wide user preferences, owing to a long list of video-capturing advantages.
---