What is a Document Camera for Teachers?
Gone are those days when you need to make several photocopies of a new book for your students. Not to mention, photocopies are costly and sometimes lack the clarity. Going through the mundane process of clicking and sharing pictures of book pages you find useful for your students is also not convenient. But, modern technology has gifted us something called document cameras that make teaching fun.
With document cameras, you can save your mobile space and don't have to squint your eyes to see better. Let's explore here document cameras, including what these are exactly, how they help you, and how you can use them like a pro.
What is a Document Camera?
People are calling document cameras advanced versions of overhead projectors. To understand better, let's get into the parts of document cameras. These cameras seem to have a sturdy support in the bottom part, frequently called a base stand. This stand connects to the camera arm, which can either be flexible or rigid. You have the actual camera attached to the arm.
Apart from the usual parts, document cameras can have additional features like base light. The features you get depend on the brand and camera you selected. All the parts combine to give you a comfy experience of displaying notes in a classroom or online classes.
This digital wonder can project the image of any object placed on its stand to a digital screen like a TV, laptop, tablet, or computer. The arm helps in producing live images from an adjustable height. The camera can even show live videos. The gap between the camera on top and the base at the bottom allows you to work under the camera comfortably. You can write something on the book pages or demonstrate practical experiments – the list is endless.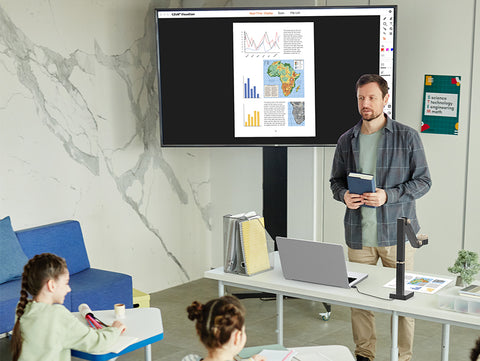 An example of using document cameras looks something like this given below:
A teacher chooses to perform a science experiment in a large classroom. She decides to use a document camera to remove the viewing difficulties of people sitting in the back.
The USB connectivity helps in the seamless integration of the document camera with a laptop, desktop or tablet. The "plug" and "play" feature cuts the need to handle complex hardware or software.
You can export the recorded images or videos to your digital device and project these on a larger screen in the classroom.
Plus, the teacher can share the live video with students remotely attending the class from their homes.
Why Use a Document Camera?
One can use a document camera because of its high level of convenience and ease. Here, we will cover amazing features and functions to show how it gives a remarkable user experience.
Easy Connection:
 Document cameras come with a simple wire setup. Joining the wire with a suitable connection port in devices like computers transmits the image or video recorded by the camera. Also, once connected, you can see options for viewing parameters on the connected device screen.
You can select the viewing angles like horizontal or vertical. Plus, you can choose features like bookmark, annotation, and zoom percentage.
Ease of Use:
You don't need to know rocket science or read difficult manuals to use document cameras. The parts of document cameras are easily identifiable. Notably, old projectors require placing the object at a right angle to offer a quality live image. But certain document cameras come with a flexible neck that lets you record live videos or take images from any angle.
If you are planning to splurge on document cameras, you must get one with a flexible neck that can be rotated in preferred angles. The makers of the document camera/ fancy series have designed a flexible and movable neck. So, you can decrease or increase the height of the neck and control the focus of the object to be captured or recorded.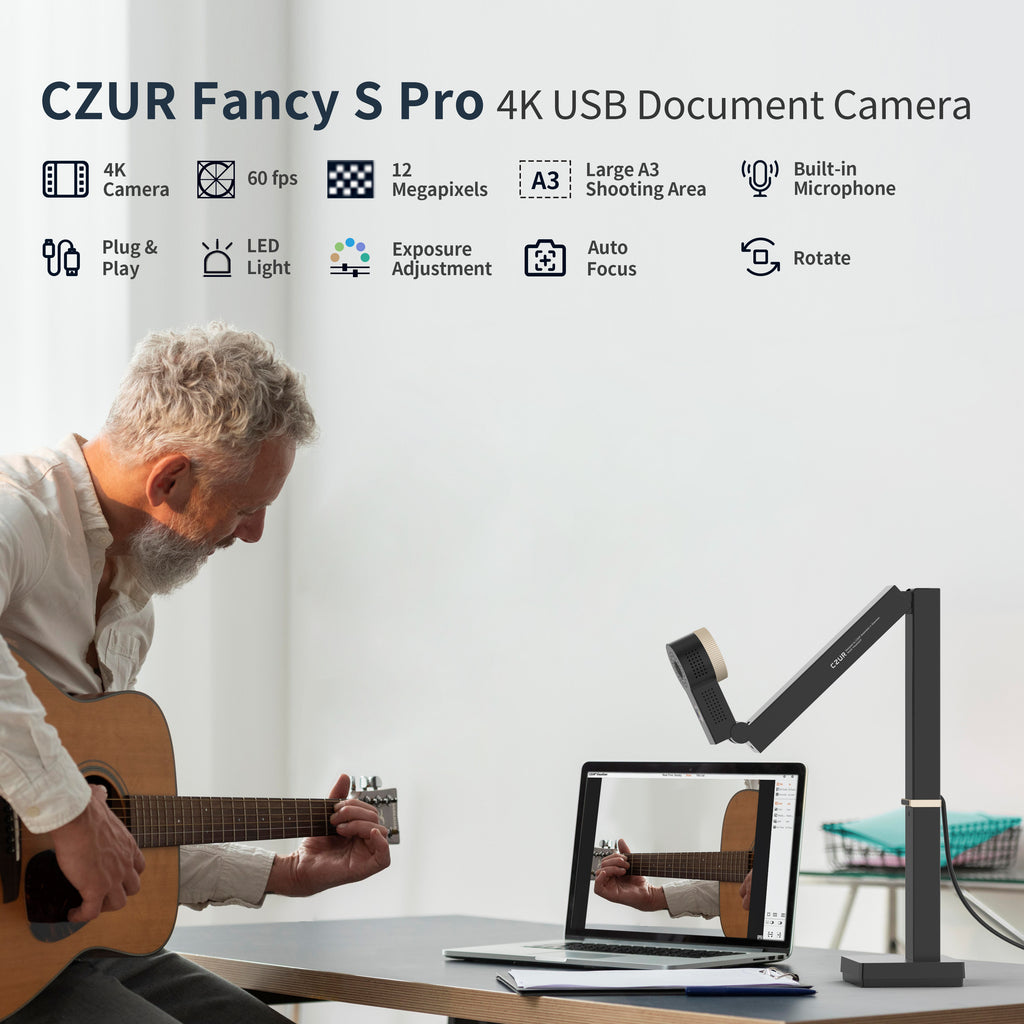 What's more? Fancy series cameras record or take pictures of objects placed underneath the camera lens and also placed in front of it. Just lift the camera arm and place it in front of you like a face mirror. This feature is helpful when teachers are giving video lectures.
Device Compatibility:
You can send the images or videos captured by document cameras to devices like computers and laptops. Plus, the cameraf these devices can be identified by video conferencing tools. So, you have no fuss about live streaming your lessons to your students' devices. CZUR fancy series, like other document cameras, won't disappoint you in this regard.
Clarity in Image and Video:
Xerox copies can have black spots or blurred text. Old heavy projectors can produce images with large blobs of focused light. Also, when projectors are made to focus on glossy pages of books, the overhead light reflects on the smooth surface and produces a brightness that gives poor contrast.
But, the document camera has impressive focus and intelligent light filtering. Like, in the CZUR fancy series, you have exposure adjustment. Plus, its "automatic edge finding scan" prevents the blurring of text towards the edges of any book you are showing.
One Device, Many Uses:
You can use a document camera as a standalone operation for editing or saving images. The device can also be used as a webcam thanks to its flexible neck and live recording feature. The camera feature helps in taking pictures and recordings, which can be saved on your device or live transferred to other devices.
The User Guide for Document Cameras
As mentioned before, using doc cameras is an easy task. Take the case of the fancy Pro series from CZUR. Switch on the device. And the camera arm comes with a light that can be switched on for more brightness or when you are working in a dimly lit space. You can either keep the camera facing towards you or the object placed on its stand.
You can live stream your recording from many angles. Don't worry; the micro-focus feature and flexible neck movements give your students the clarity they need. The 8 MP and 12 MP HD cameras in the fancy series take good care of the picture quality.
Also, did we mention it has a built-in microphone? So, you can record, send images, and also explain while you move from one page to another or show experiments.
As a CZUR product, it comes with high flexibility in use. You can change the focus mode depending on whether you are capturing a moving or non-moving object. Also, you can control the light rays falling on the object thanks to its head buttons. The camera gives you three brightness levels, and you can select one based on your focusing preference.
Conclusion
Document camera definitely removes the constraint of using old projectors or zooming through photocopies. It makes lessons fun for both teachers and students.
Have you been eyeing document cameras a lot recently? Grab one from the CZUR fancy series, which gives clarity, brightness control, and amazing focus.
---