How to Make Your Files Editable by Utilizing the Scanner?
Optical Character Recognition (OCR) is also known as text recognition. This program helps in repurposing and extracting data from camera images, scanned documents, and image-only PDFs. The Software helps in singling out letters on images, then puts them into words and words into sentences.
The main purpose of all this is to enable access to and also edit the original content. It helps to eliminate the need for manual data entry. The OCR technology utilizes various software and hardware to convert printed and physical documents into machine-readable text. The hardware, in this case helps in copying and reading text while the software helps in handling advanced processing.
The main use of OCR technology is to convert hard copies of legal or other precious historical documents into PDF forms so that users can easily edit, format, and also search the documents as if they are created with the help of a word processor.
Benefits of OCR Functionality
The importance of OCR is just beyond transfers. This software has various benefits such as:
Text Searches
The entire physical content is instantly associated with a preferred text reader like Notepad or Word and Pages. This is highly useful in searching any required content quickly, highlighting specific phrases, images, and words. This is highly useful for documents containing more than a few pages.
Text Editing
Hard files are first converted into interactive files. This is done to enable users to edit, delete, and even add new information directly on the pages.
Text Access
Document sorting is a complicated task and in most cases, important information is lost while sorting them. OCR combats such issues, letting the users save/store files on their laptops and other devices. This helps in accessing every single piece of information saved on your device.
Time Management
Manual data entry is quite exhausting because here users dedicate their time to document creation and endless forms. OCR helps the users in expediting transcription and ensuring effective time management.
CZUR Scanners
CZUR Scanners are undoubtedly the best scanners in the market. With the help of CZUR Scanners, you can digitize, organize and also store all your ideas, writings, and notes in your computer or phone. After storing you can access, review and share them from anywhere and anytime.
All models of CZUR scanners come with features that are specifically designed to make the user's experience friendly. 
Built-in ABBY OCR: The OCR Technology helps to create searchable PDFs and editable Word and Excel documents for free. This amazing technology helps to recognize around 186 different languages. With the help of the OCR functionality, users can easily access their data and search for relevant/required information among other texts.
Below is a list of languages that are recognized by this amazing OCR technology: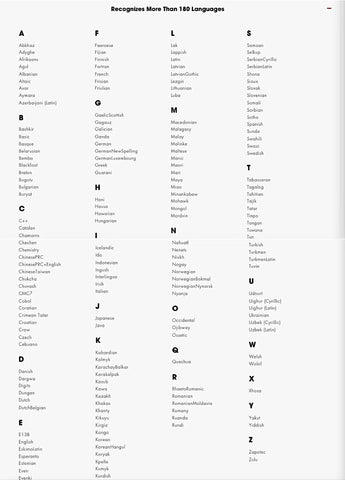 ---