Application Scenarios of Different Processing Method
Both business digitization and daily life digitization are becoming common. It enables flexibility in access, getting connected with people anytime and anywhere with digital versions.
But considering that different scanned materials have different operational requirements, for example, you may want to get separately facing pages without curvature in the middle when it comes to book-scanning; you may get tired of scanning stamps, business cards and such small materials over and over again, etc.
See? Only one ordinary processing method cannot meet all your needs. So how about a scanner can solve all these problems, with different scanning methods all in one. Let's have a look.
"Flat single page" processing method is suitable for document scanning. Put the document on the black mat randomly, the build-in features of the system will recognize the scanned target and do auto-cropping and correct the tilt.
For stamps, photos, name cards and such small scanned materials, the "Multi-target paging" under this processing method will help you save a lot of time, that's get separated documents with just one click of scan.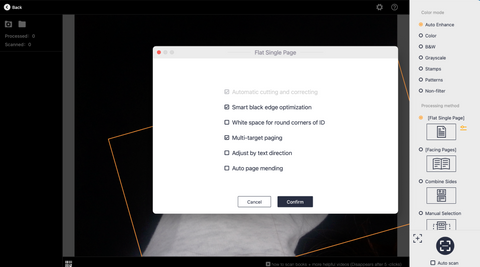 "Facing Pages" is designed for book-scanning. Normally, the words near the glitter of the book are not readable or distorted, also both pages will appear finger mark during the press of the book.
The "Curve-flattening technology" and "Finger removal" feature will automatically flatten the curvature in the middle, and the system will eliminate the finger shadow. You can get two separate, flat pages under this scanning method.
For pages that had been distorted under the "Facing pages" mode, please try the "Manual selection" method, since the book may be not thick enough to excite the curve-flattening technology.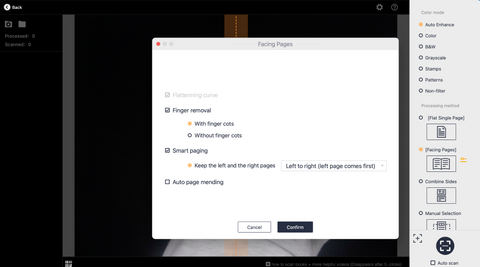 This scanning method is normally used in card scanning. Combine two sides of the cards or different pages of the passport into one page.
Both horizontally combined and vertically combined are available.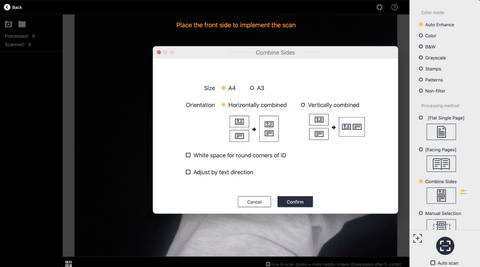 Box select the desired area in the preview window. The resulting scan will retain the selected area.
The "Flat Single Page" and the "Facing Pages" are the mostly used scanning methods. Kindly choose the suitable one to scan the originals and the CZUR scanners will get you a satisfied scanning result! 
---